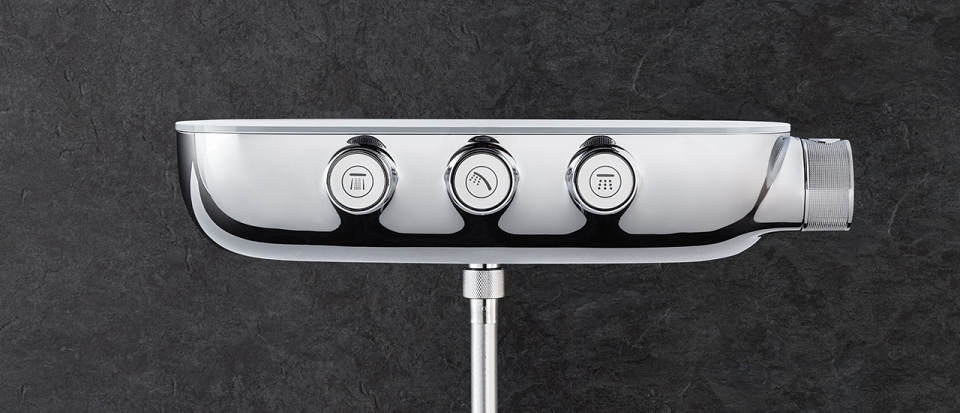 SmartControl <br>Combi Shower System
THE BEST OF BOTH WORLDS: <br> GROHE SMARTCONTROL COMBI SHOWER SYSTEM
THE BEST OF BOTH WORLDS: GROHE SMARTCONTROL COMBI SHOWER SYSTEM
Flexibility best describes the reason for choosing the GROHE SmartControl combi shower system, which offers a range of different installation options and possible combinations.
This means for example, that you are free to position the thermostat either vertically under the showerhead or, if you choose, away from the central axis – or even on one of the side walls of the shower. Flexibility also extends to the way you can combine the thermostat with other GROHE head, hand or body showers, creating your own personal shower experience. You also have the option of turning your bath into a shower – by combining the SmartControl thermostat with a bathtub inlet and a hand shower.
Like the GROHE SmartControl Exposed, the 'excealed' solution is also available in Duo and Mono versions and also offers shelf space for shampoo and shower gel. With the GROHE SmartControl Combi shower system, the piping runs within the wall, connecting the SmartControl thermostat and the head shower. No shower rod means that cleaning is effortless – just one more of the pleasures you can expect from the GROHE SmartControl Combi shower system.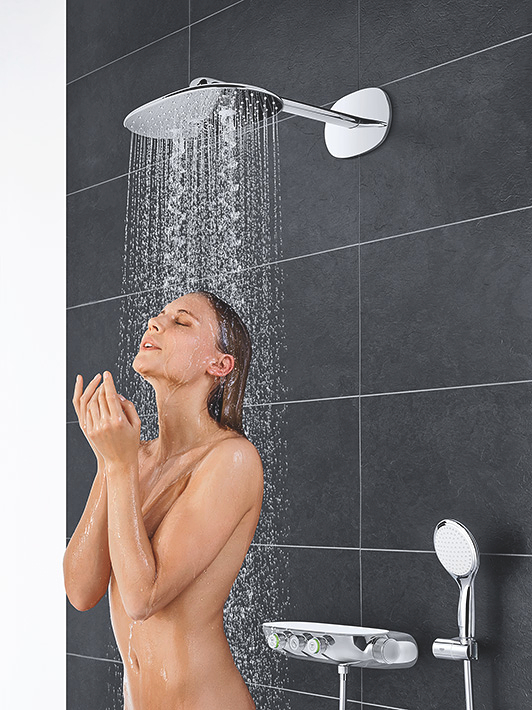 Experiencing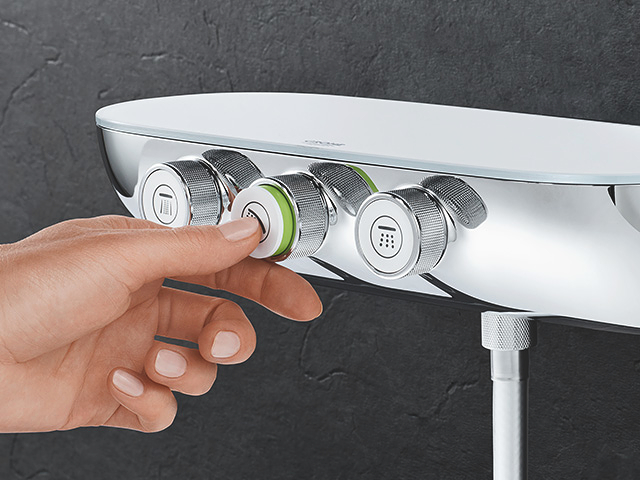 100% Control GROHE SmartControl
Start/Stop & Volume
The innovative GROHE SmartControl technology lets you choose your preferred spray pattern and adjust the water flow as desired. Operation is simple and easy for all the family - including children.That's Smart.

Temperature
GROHE TurboStat® technology lies at the heart of this shower system. The thermo-element's unrivalled sensitivity means it delivers water at the desired temperature within a fraction of a second - and keeps it consistant for the duration of your shower.
Heads-up on the Perfect Shower Enjoyment
The generously proportioned Rainshower 360 head shower is an experience in and of itself. Its large-scale design guarantees an XXL shower feeling
GROHE TrioMassage Spray:The combination of the renowned GROHE Bokoma Spray and two GROHE Massage sprays gives you a head and shoulder massage in one combined spray
GROHE PureRain/Rain O² spray as preset function
GROHE Starlight chromed metal spray plate
Improved SpeedClean nozzles
GROHE EasyClean removable spray plate
HANDCRAFTED BY GROHE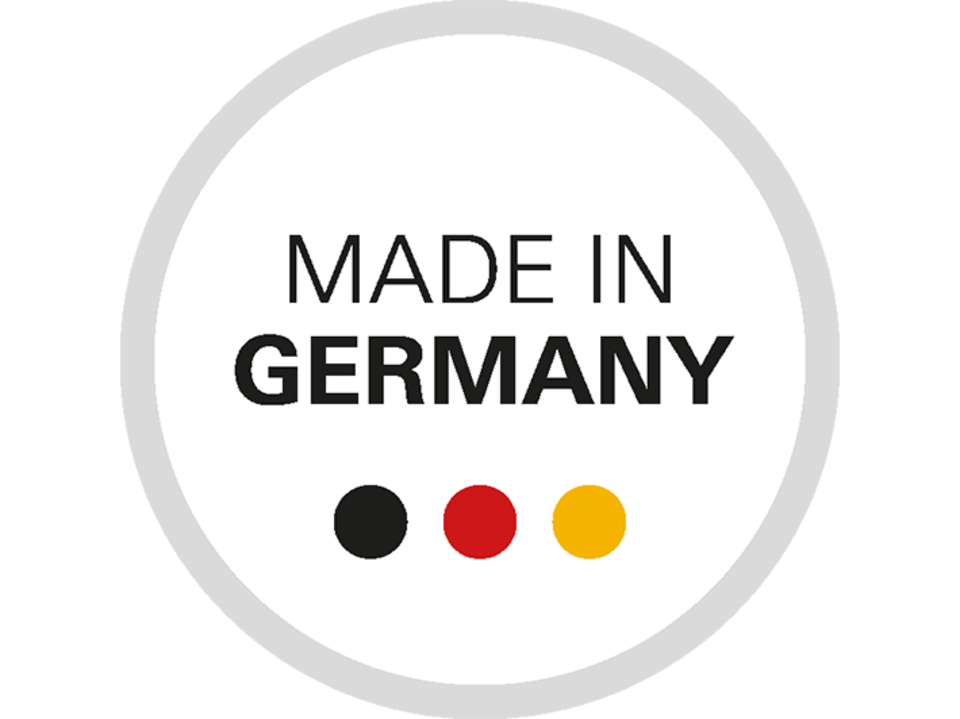 Designed, engineered and manufactured in Germany.
Smartcontrol Showers are made in Lahr, Germany.
Find out more about GROHE SmartControl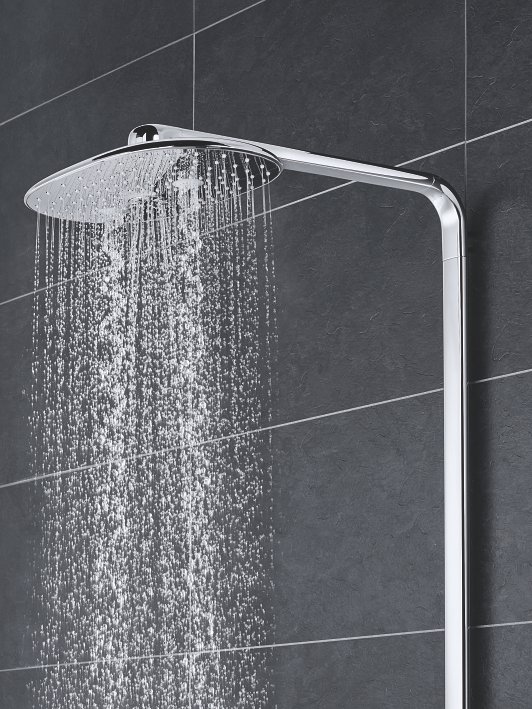 SMARTCONTROL EXPOSED
GROHE SmartControl Exposed, combined with the striking Rainshower 360 head shower and shower rod, can be installed with minimum fuss for maximum effect.
Discover SmartControl Exposed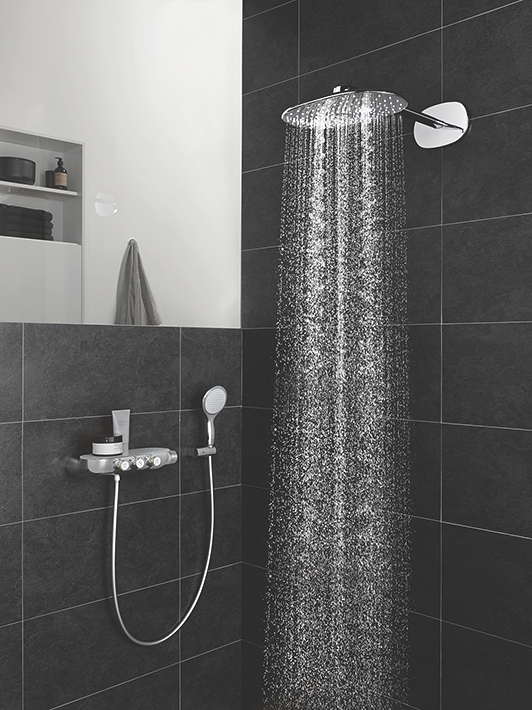 SMARTCONTROL COMBI SHOWER SYSTEM
The "excealed" solution – no visible shower rod, just the impressive Rainshower 360 head shower and GROHE SmartControl.
Discover SmartControl Combi