Rainshower Eco
"Gledano odozgo, ljudsko telo nije okruglo."
Rainshower® Next Generation Eco je inspirisan jednostavnim uvidom u iskaze potrošača: "Gledano odozgo, ljudsko telo nije okruglo." Dizajn ovalnog oblika prati oblik ljudskog tela i primenjuje tehnologiju GROHE DreamSpray® za efikasnu distribuciju vode. Ako ubrajate sebe u ekološki svesne potrošače, jednostavnim aktiviranjem dugmeta EcoButton, utrošićete znatno manje vode.
Find Your Showroom
Experiencing
Zašto se držati konvencija, kada možete imati dizajn koji je zaista inspirativan? Dizajn koji predstavlja izazov i na svež način tretira pogled na to kako ljudi komuniciraju sa svojim sredstvima za higijenu. Ručni tuševi Rainshower® Next Generation su omiljeni kod poznavalaca dizajna i osvojili su bezbroj nagrada zbog svog primamljivog oblika i ekoloških akreditiva, što ih svakako čini poželjnim. Štaviše, mi smo uključili tehnologiju za uštedu vode na dohvat ruke, tako da možete da se prebacite sa obrasca običnog mlaza (Rain) na obrazac umanjenog, nežnijeg mlaza koji ima smanjeni protok pomeranjem dugmeta EcoButton na ručki.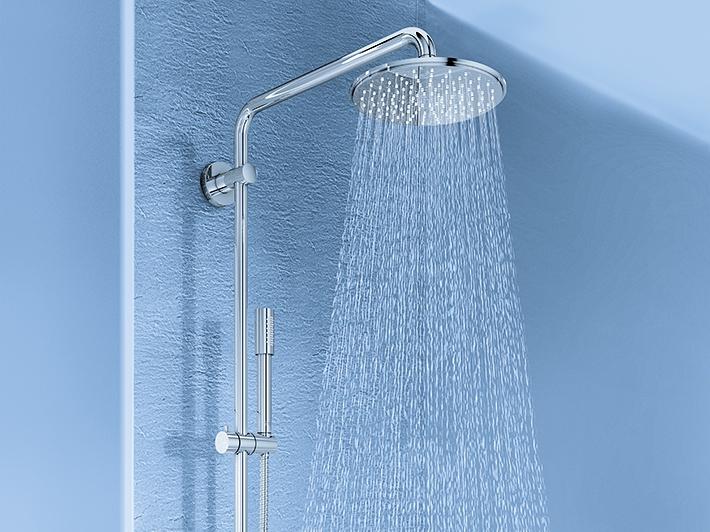 Rainshower Systems
Rainshower® systems unite the essential elements of a great shower, plus a host of other benefits to enhance your comfort and pleasure. All of our thermostatic systems feature GROHE thermostats – designed with the world's most sensitive thermometer in mind: your skin. For the ultimate in indulgent showering, our top-of-the-range system is guaranteed to reconcile your body and soul with its adjustable body showers – so all family members can benefit from this new take on hydrotherapy.
Rainshower® Systems